The first DVAM was held in October of 1987, the same year that the first national toll-free domestic violence hotline was launched. US Congress designated DVAM by law two years later.
Domestic violence is violence or abuse that happens in a domestic setting. It's a serious problem that affects many families and does not only refer to physical violence, but also things like threats, unwanted visits and phone calls, insults, forced sex, and taking financial control. Intimate partner violence (a form of domestic violence) is linked to depression and suicidal behavior.
If you or someone you know has been affected by domestic violence, know that there are many resources out there that can help, including the National Domestic Violence Hotline. Online counseling services like BetterHelp are another option, offering convenient access to trained and experienced counselors and therapists matched to your specific needs.
Domestic Violence Statistics
If you're still wondering why it's so important to have a whole month dedicated to domestic violence awareness, it's important to be aware of the true scope of the problem.
The truth is that domestic violence affects millions of people each year and has far-reaching consequences for victims, their families, and even the economy. In fact, intimate partner violence costs the US economy anywhere from approximately $5 to $12 billion per year.
While it's completely possible to have never been exposed to domestic violence yourself, NISVS data shows that on average, "20 people per minute are victims of physical violence by an intimate partner in the US." Estimates suggest that domestic violence from an intimate partner affects both genders, specifically about 1 in 3 women, and 1 in 4 men.
In many domestic violence cases, children have impacted as well as adults. Some estimates show that as many as 1 in 15 children are affected by domestic violence in the United States per year and that 90% of those children see the violence going on with their own eyes.
One big problem faced by those working to end domestic violence is the fact that people know that it's common but don't know what to do if they suspect someone is they know is a victim of domestic violence. Unfortunately, many victims do not seek out medical care for the injuries and are afraid to leave the situation that they are in.
How to Participate
Wear Purple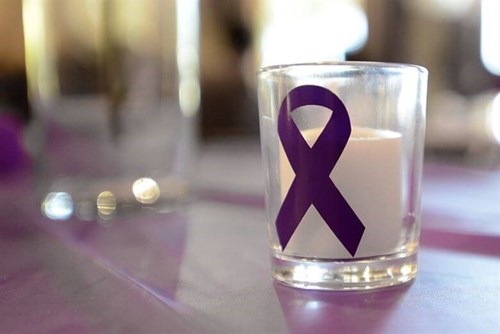 Domestic Violence Awareness has often been represented by a purple ribbon, which is considered to be "a unifying symbol of courage, survival, honor, and dedication to ending domestic violence." These days, people wear purple to create awareness during DVAM by wearing a ribbon or other purple items like t-shirts. Accessories like bracelets or necklaces have also become popular.